When preparing to sell your home in the real estate market, you need to consider many things. You should ensure that your home is in optimum condition so that it appeals to potential home buyers and help you get an excellent price for your home. One important thing you can do when staging your home is decluttering and removing any personal belongings. Home buyers want to imagine the space as their own, and it may be challenging to do that if they find themselves looking at mementos or family pictures in your home. If possible, pack these items and store them out of sight until you receive the final transaction of your home sale.
First impressions during a home sale are a huge deal, so it's crucial to ensure your home has
An excellent curb appeal. It means ensuring your pathways or walkways are inviting and welcoming, power washing your home's exterior, and landscaping. Each room in your home should serve a purpose when staging it for sale. For instance, a formal lounge may be a library or office, while a family room is suitable for a relaxing entertainment room. Here are some things the best staged homes on the real estate market do to prepare potential homebuyers.
1. Bringing In Natural Light
The best staged homes on sale are always prepared to bring natural light into the house. Natural light makes a home feel more inviting, bright, and open. It's one of the first things potential home buyers take note of when they walk into a home, and it can make or break your home's ability to appeal to homebuyers. Your home's windows play a vital role in this, and hiring a professional window contractor to install energy-efficient windows will help you a great deal.
There are a few ways to bring natural light into your home before putting it on the market. First, you should clean your home's windows inside and out to rid them of fingerprints, dust, and dirt. It will allow natural light to come into your home and make it appear bright and open. You can also open up your blinds and curtains in your home before staging so buyers can see how much light gets during the day. Finally, you should consider painting your walls a lighter shade as this will reflect natural light and make your home appear brighter.
Following these steps will help you bring natural light into your home and make it appeal to potential homebuyers. The present real estate market is always looking for homes that feel like a sanctuary where someone can recharge and relax after a tiring day. By letting natural light into a home, you stand to get a good offer when you stage your home for sale.
2. Refurbishing the Exterior
Preparing your home for sale is a lengthy and complex process. If you are looking to make a fast and seamless sale, then you should take some time to learn more about how to transform your home into one of the best staged homes. A critical aspect of preparing your home for sale is refurbishing its exterior by hiring siding and window companies to do the work for you. It's often one of the things a potential buyer will notice about your home, so it's essential to ensure that it looks perfect.
You can begin by applying a fresh coat of paint. It's a quick and easy way to make your home's exterior look perfect. Choosing the ideal paint color will appeal to many buyers. Potential homebuyers should be able to envision themselves residing in your house.
You can also power wash your walkways and siding. As time passes, grass and dirt may build up on your home's walkways and siding. It may cause your home to appear untidy and dull, repelling potential homebuyers. A power wash can help you get rid of all that build-up, giving your home a complete makeover. Ensure you don't get too close to the power washer, as it may injure you or damage your concrete or siding. If you have any outdoor accessories or furniture, consider storing them out of sight or getting rid of them altogether. Potential buyers should imagine enjoying your home's outdoor space, and seeing your belonging may hinder them from exploring this possibility.
3. Taking Care of Damages
When exploring ways to prepare your home for sale, there are many things you should do to make sure it appeals to buyers. One way you can turn your home into one of the best staged homes is by taking care of damages it may have, such as water damage remediation or mold removal. It will enhance your home's appearance and increase its value as well.
First, you should create a list of damages incurred in your home. It can include anything from cracks in the foundation to scratches on the wall. After making a list, proceed to work on each problem and fix them. If there are any cosmetic damages in your home, like stains or scratches, then you should fix them as soon as you can. These damages are easily repairable and can enhance your home's appearance. If your list contains severe damages, such as cracks in your home's foundation or holes in your walls, then consider consulting a professional before trying to repair them yourself. You may need to take care of structural problems before you can proceed to fix the issues.
After repairing every issue on your list, you should thoroughly clean your home. It will help to get rid of dirt or dust that may accumulate as time passes. Taking care of damages is one of the preparations the best staged homes on the market do to increase their home's value. Ensure you follow these tips to get the most out of your home's sale. It will show homebuyers that your home is well-maintained and, therefore, worth investing in.
Remember to declutter your home when preparing to stage it on the market. It means getting rid of unnecessary things from your home so that it appears inviting and spacious. Home buyers want to see a well-cared home, and decluttering can be a massive help in this area. If you are selling your house, decluttering and taking care of damages are necessary preparations you should undertake. By doing these tasks, you should be able to stage your home and show potential buyers that your home is in optimum condition and is worth investing in.
4. Investing in the Yard
If you are planning to put your home up for sale, one of the best things you can do is invest in some quality lawn care. First impressions are always crucial, and potential buyers will judge your home based on what they see first. If you have an unkempt and overgrown yard, buyers will likely presume your home's interior is also neglected, even if it's tidy. Alternatively, a well-maintained yard can welcome or intrigue potential homebuyers and could even make them believe your home is worth more than its actual price tag.
Hiring a professional landscaper may be expensive and not fit your overall budget. However, there are many ways to maintain your yard, even with a limited budget. One easy and cost-effective way to do this is to give your lawn a fresh trimming and cut overgrown trees or bushes. To enhance visual appeal, you should also consider adding rocks or mulch around your plants. If you are working with a sufficient budget, you should consider adding flowers or plants to your yard. Ensure you select plants suitable for your area's climate and require little maintenance.
5. Checking the Appliances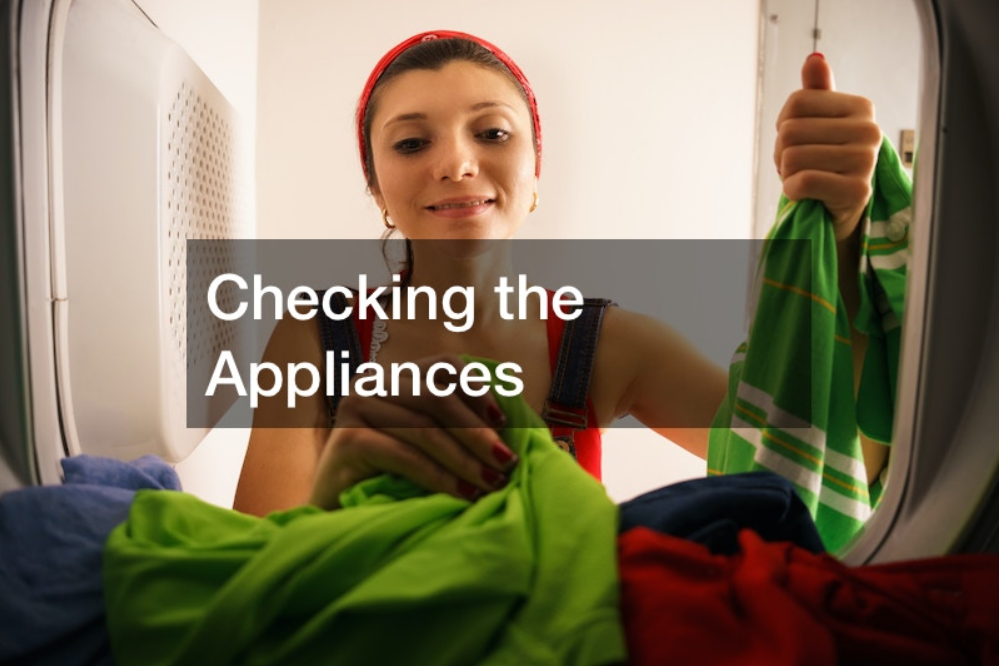 You need to consider some essential factors when putting your home up for sale. One crucial thing is ensuring that all your appliances, such as a furnace, are in perfect working condition. It can be challenging, especially if your home is old or you have been living in it for many years, and the appliances start to malfunction. However, it's crucial to take time and ensure that everything is in perfect condition before preparing your house to be one of the best staged homes. You can do this by hiring dishwasher repair services to repair your malfunctioned dishwasher or repair your other appliances
First, check to see if each home appliance is in good working condition and clean. If you find a dirty appliance, you will need to clean it before showcasing it to potential buyers. It includes inspecting both the interior and exterior of the appliance. Additionally, you should check all plugs and cords to ensure they are not damaged and are in perfect working condition.
After inspecting each appliance, consider how you arrange them in your kitchen. Take into account logical flow when it comes to your appliance arrangement and whether they cram into a specific space or area. Take some time to arrange your appliances so that they flow well and make sense in the arrangement. It will help potential buyers envision themselves living in your home and increase your home's overall appeal.
6. Testing the Water
When putting your home up for sale, you need to consider many factors to get the most out of your deal. One of these factors is how you stage your home to potential buyers. Staging involves transforming your home and making it appealing to buyers who see its value and envision themselves residing there. Your main goal should be to make your home stand out from other houses by taking care of plumbing issues, for instance, and attracting as many buyers as possible.
One of the preparations that the best staged homes on the market undertake is testing the water. It means homeowners put their homes up for sale on the market for a short period, typically a few weeks, to measure interest and get an estimate of what price they should aim for their homes. It's an effective strategy if you are unsure of your home's worth or want to test out the real estate market before immersing yourself fully in it.
If you are thinking about testing the water on the market with your home, you need to consider a few things. First, ensure you stage your home well before selling it on the market. It will give you a good chance of attracting buyers and persuading them to make an ideal offer. Second, prepare to move immediately after receiving a bid during your test listing experiment. If a buyer makes a prolific offer, there's no reason to stall and delay accepting it.
7. Optimizing Energy Usage
When preparing your home for sale, you need to do a few things to make it appealing to buyers. One crucial aspect to consider is optimizing energy usage in your home. Not only does it help you save costs on utility bills, but it also makes your home environmentally conscious. You can optimize your home's energy usage in many ways, and the best staged homes on the market ensure to utilize them.
First, one way to reduce your energy consumption is to ensure that you maintain all your appliances to make them work efficiently. It means cleaning coils, filters, and air conditioning system regularly. It's also vital to ensure you seal windows and doors properly to avoid drafts. Additionally, you can use programmable thermostats to adjust the temperature in your home automatically depending on the time of day or week, which leads to significant energy savings as time passes.
Another way to reduce your energy consumption is to maximize using natural light as much as possible. You can do this by installing energy-efficient windows and skylights in your home and opening your window coverings during daytime hours. Maximizing your use of natural lighting can help reduce your reliance on artificial light, which ultimately optimizes your energy usage. Finally, one simple and effective way to maximize your energy usage is by turning off all appliances and electronics when not in use It includes everything from TVs to chargers.
8. Remembering the Little Things
It's not a must to be a professional stager to execute a perfect home staging during a sale. Remembering little things is crucial when staging a home as potential buyers may notice small details you overlooked and impact their final choice in making a deal with you or not. Dusting your home is one of the little things you should remember to do when selling your home. Potential buyers may notice how dirty or clean your home is. Ensure you dust surfaces such as window sills, light fixtures, ceiling fans, and baseboards. Remember to clean hard-to-reach areas like the top of shelves and cabinets. Your hard work will pay off when your home is dustless and appeals to buyers.
Decluttering tables, countertops, and other surfaces is another thing to remember when selling your home. Clutter creates a sense of disarray and makes rooms appear smaller than their actual size. When potential buyers walk into a room with clutter, they may not see the property's full potential and skip on purchasing it. So take time to declutter surfaces in your home like nightstands, coffee tables, countertops, etc. Store items you don't regularly use to make potential buyers imagine having their belongings in your home. You should also do repairs in your home, such as doorbell repairs, to ensure your home remains functional and suitable to live in.
Staging a home is a complex and lengthy process. Ensure you do the necessary repairs and execute plans to make it one of the best staged homes on the market to attract potential buyers. This way, you are sure to get prolific deals on your home sale.